Frugal Video Poker Review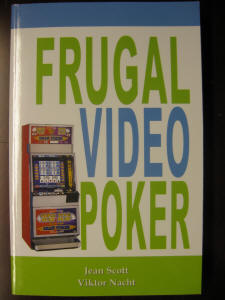 Frugal Video Poker is Jean Scott's first and most comprehensive book that is completely focused on the game of video poker. Jean states herself that the book is intended to be a one stop resource that will turn new players into profitable players in one sitting.
With over 300 content-packed pages, we have to agree with Jean that Frugal Video Poker covers more material than any other video poker book on the market today. The table of contents is huge, and the book follows a nice path from simple material to more advanced topics as you read further and further into the book.
I bought this book and read through the entire thing so I could give my thoughts on it and opinion if it is worth the $19.99 I paid on Amazon.com. Read on to learn if this book is worth your time.
Content
As I just mentioned, Frugal Video Poker attempts to cover every topic important to a serious video poker player. We'll go over each section of the book now so you can get a feel for the level of discussion and what is covered.
Part I - Starting With Home Study
Part I of Frugal Video Poker is an introduction to the basic concepts, and consists of the following chapters:
Stepping Out On The Right Foot
Choosing a Basic Practice Game
Gaining Strategy Skill
Building Your Frugal VP Tool Kit
The first part of the book introduces you to video poker, and spends some time explaining why video poker is much different than slots. Also, Jean Scott discusses different types of casino players and why they gamble. You'll also be pointed towards a few valuable video poker resources for learning and practicing the game.
From there, Jean explains how to choose the best game to learn (she recommends starting with Jacks or Better), and then how to actually learn the game without wasting your money at the casino. You'll also find a basic Jacks or Better strategy chart. Jean also introduces the topics of slot clubs and bonus hunting, which she expands upon later.
Part II - Building on the Basics in the Casino
Part II of Frugal Video Poker takes players from learning the basics at home to actually playing in a real life casino. Here are the chapters in Part II:
Exploring Casinos
Choosing a Primary Game
Studying Game Charts
Evaluating Slot Clubs
The second part of the book guides you through your first casino trip. Jean and Viktor explain how to sign up for a slot club, how to find the game you want to play, and how to actually put your money in and get going. From there, you'll learn how to compare different pay tables on different machines, and how to adjust your strategy card to reflect that. Finally, Jean and Viktor explain how to evaluate the value of a specific slot club.
Part III - Putting It All Together
Part III of Frugal Video Poker expands on the previous two parts, and takes you to a more advanced level of play and strategy. Here are the chapters:
Settling on a Core Play
Estimating Session Bankroll
Session Bankroll Charts
This part of the book has a heavy discussion on bankroll expectations, and introduces the concept of "volatility" to the readers. You'll learn why you need certain sized bankrolls to avoid risk of ruin, AKA going broke.
Part IV - Finding Added Value For Your VP Game
Part IV of Frugal Video Poker teaches you how to add expected value to your game through comps and promotions. Here's the chapters:
Maximizing Players Club and Comp Benefits
Utilizing Promotions
Playing in a VP Tournament
Here you'll learn how to evaluate and utilize cash back and promotions, and also the basics of video poker tournament strategy.
Part V - Broadening Your Game Choices
Part V takes a serious video poker player and makes them even more proficient by teaching how to play rare machines that offer good edges.
Playing Multi-Line Games
Playing Oddball Games
Playing Multi-Strike Poker
Playing VP Progressives
This part of the book helps you expand your game to tackle multi line, oddball, multi strike, and progressive video poker games.
Part VI - Improving Your VP Play Results
Part VI mainly wraps up the book by teaching you the final few items about scouting casinos and fine tuning your strategy even more.
The Verdict
Overall, Frugal Video Poker meets its claim as being the most complete video poker book out there. I give it an A for having a ton of information for a good price.