Multi Hand Video Poker Guide
Multi Hand video poker is a relatively new variation on traditional video poker games. Multi Hand games start out exactly like normal games - you receive your five cards and choose which to hold. However, once you click "Draw" your hand will actually be split into multiple hands, and the draw will be run independently for each hand. We'll try to explain this better through screenshots:
| Rank | Casino | USA? | | Sign Up Bonus | Visit Site |
| --- | --- | --- | --- | --- | --- |
| #1 | | | Bovada Casino | 100% up to $3000 | Play Now! |
| #2 | | | Wild Casino | 100% up to $5000 | Play Now! |
| #3 | | | Ignition Casino | 100% up to $2,000 | Play Now! |
| #4 | | | Roaring 21 Casino | 400% Slots Bonus | Play Now! |
| #5 | | | Las Atlantis Casino | 280% up to $14,000 | Play Now! |
| #6 | | | Slots.lv Casino | 300% up to $5000 | Play Now! |
| #7 | | | Cafe Casino | 500% up to $5,000 | Play Now! |
| #8 | | | Lucky Red Casino | 400% up to $4,000 | Play Now! |
| #9 | | | Bet Online | 100% up to $3,000 | Play Now! |
| #10 | | | Buzzluck Casino | 250% + $75 free on Bitcoin | Play Now! |
Here is a 10-hand Jacks or Better game at Bovada Casino. This is after the deal: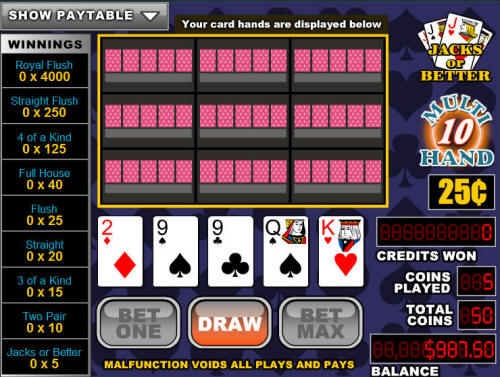 Just what you'd expect, right? Next, click which cards you'd like to hold, and you'll see this: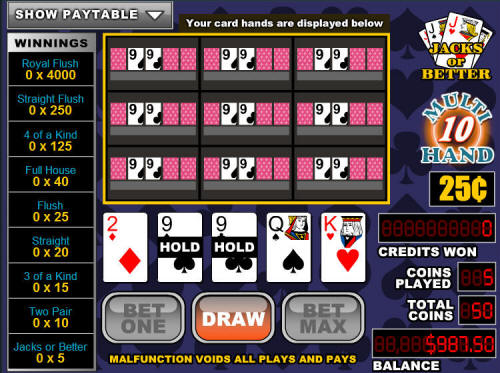 Notice that each card you hold is also held in the other nine hands up top. Now click Draw.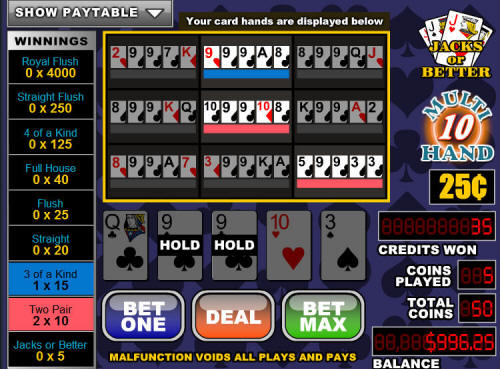 All ten hands receive their own unique draw. The three hands that are lit up are winners, so I receive payouts for one three of a kind and two two pairs.
How Do Multi Hand Games Work?
Multi hand video poker games actually break each hand up into its own bet and deck of cards. In the example above, I was playing five coins per hand at $0.25/coin, but since I was playing ten hands I was actually betting fifty coins per hand at $0.25/coin, or a total of $12.50/deal. Here's a full break down of how it works:
Ten Total Hands
Bet Five Coins per Hand
Fifty Total Coins per Deal
Each Coin is worth $0.25 in this example, so 50 times $0.25 = $12.50/deal.
Each of the ten hands is an individual five coin, or $1.25 bet.
Individual Draws
After you select which cards to hold and click Draw, each of the ten hands has its own separate draw. The cards you held remain the same, but each hand then draws from its own individual deck of cards. This means that you can actually receive the same card in two or more of the separate hands.
Number of Hands
Multi hand video poker games are typically offered in 3-hand, 5-hand, 10-hand, 25-hand, 52-hand, or even 100 hand games. The more hands you're running per deal, the more money you'll be betting per deal but the less variance you'll see per deal.
Mathematical Variance
One thing to keep in mind is that multi hand video poker games will have much less variance than single hand video poker games. Since you are running multiple deals and draws per hand, your standard deviation for each round will be greatly reduced. This helps you achieve a payout percentage in the short run that is much closer to the actual long run pay percentage.
Bigger Bets
Although the variance is much lower at these games, you can still go broke quickly because of the larger bet sizing. In the example above I was betting $12.50/hand, even though I was only playing a $0.25 machine. This is because I was playing five coins per hand and playing a total of ten hands. This doesn't actually affect the house edge, but it may put pressure on your bankroll if you don't have much money to play with.

If you want to try out multi hand video poker, we suggest checking out Bovada Casino because they have a great multi hand video poker game that doesn't even require you to sign up!