Fundamentals of Video Poker Review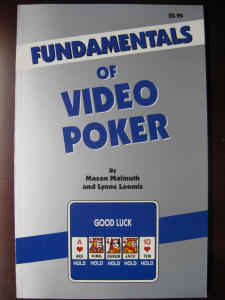 Fundamentals of Video Poker is an introductory video poker booklet by Mason Malmuth and Lynne Loomis. Although the book is only 69 pages long, it is a quick and effective primer for the new video poker player. I've personally read the book, and am going to provide you with my opinion of the quality of information, relevancy for current day players, and also decide if the book is worth the $5.95 or not.
Fundamentals of Video Poker was originally published in 1992, and since then has received two updates, the most recent one coming in 2004. The authors, Mason Malmuth and Lynne Loomis, are both respected figures in both the video poker field as well as gambling strategy in general. Malmuth is the head of the Two Plus Two publishing company that has produced dozens of high quality poker and gambling books over the last twenty or so years.
Content
Fundamentals of Video Poker has basically seven sections of solid information:
The Basics of Video Poker
Jacks or Better
Tens or Better
Deuces Wild
Joker Wild
Double Bonus
Other Topics
I'll go over each section now, and give you my impressions of the info:
The Basics of Video Poker
This section is for the greenest of players, as it teaches you how to actually play a machine (insert your money, push Draw, choose your holds, etc), the hand rankings, the differences between video poker and draw poker, how progressives work, and defines full pay games. If you're a new player this will give you a great intro to the game, but if you already know how to play, I'd recommend skipping over this section.
My favorite part from this chapter is when they list the most common video poker myths, as there are some additional ones in the book that we didn't have on our list.
Jacks or Better
The Jacks or Better (JoB) section is only a handful of pages long, but provides a basic overview of the game as well as nine strategy tips that will drastically improve your play. The tips include advice like holding four to a flush over a small pair, but keeping a high pair over four to a flush. Also, they discuss how big a progressive jackpot has to be on an 8/5 machine to make the expected return equal to a non progressive 9/6 machine.
The chapter wraps up with a ten question quiz that tests your JoB knowledge.
Tens or Better
The Tens or Better section is only one page long, and basically explains why there aren't many Tens or Better machines around anymore. Also, it gives you the one tip you need to adjust your Jacks or Better strategy to suit the Tens or Better machines.
Deuces Wild
The Deuces Wild section starts off with a quick introduction, and then provides five differences between Deuces Wild and Jacks or Better. Then, it lists five tips for playing Deuces Wild. All of these tips are solid (and correct) advice that will drastically increase your odds versus playing by the seat of your pants.
Just like the Jacks or Better section, Deuces Wild wraps up with a ten question quiz.
Joker Wild
The Joker Wild section only focuses on on the version of Joker Wild that pays for Kings or Better, because that is the only version that can be beaten. This section starts out with six tips for Joker Wild players, most of which show the differences in strategy between Joker Wild and Jacks or Better. Then, it wraps up with a ten question quiz.
Double Bonus
The Double Bonus chapter starts out by explaining why casinos like to offer Double Bonus games over Jacks or Better games, even though they have a better overall payout percentage. Then, it gets right into the tips. This section has six strategy tips that teach you how to handle tricky Double Bonus hands the right way. Then, like the other chapters, you wrap up with a ten question quiz to test your Double Bonus knowledge.
Other Topics
Fundamentals of Video Poker wraps up by explaining four money management myths, the topic of hot and cold machines, and how to effectively use casino comps. Also, it provides a glossary of video poker terms, and recommends other video poker books.
The Verdict
Although Fundamentals of Video Poker is a short and basic book, for $5.95 you can't go wrong. We recommend this book for brand new and amateur video poker players, but pros will likely get bored as it doesn't provide any groundbreaking tips.