Jean Scott
Update! Jean now has a weekly column in our video poker forum, check it out here:
» Jean Scott Video Poker Column
Latest Jean Scott Articles: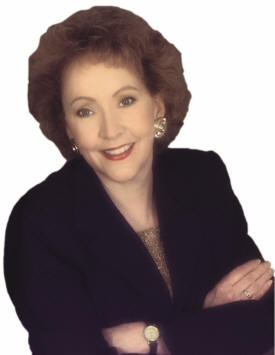 Jean Scott might look like your average grandmother but her kind face hides a surprisingly cunning mind. She is a well known casino writer whose specialty is finding and using casino comps to the maximum. She doesn't claim to be a high stakes superstar but she will tell you that there isn't anyone else out there who knows how to work the system like she does.
She's known by the names "The Queen of Comps" and "The Frugal Gambler" because of the conservative nature of her advice and her love of casino comps. Her most famous book, "The Frugal Gambler" came out in 1998 and it has since helped thousands of casino players learn how to make the most of their money at the casino. She reaches a wide audience because her advice doesn't apply only to serious gamblers and high rollers. Anyone can (and should) use the advice found in her books.
Jean's Beginning
Her conservative nature probably dates all the way back to her childhood. She was born as a minister's daughter and gained an incredible appreciation for thriftiness at a young age. The first time she visited Las Vegas was after she'd already retired from her first career as a high school English teacher.
Las Vegas struck a chord with Jean's thrifty nature. All the special deals, comps and coupons were everything a person like her could ask for. It made such an impression on her that she decided to do a little homework and see if any of these deals were any good.
The first step she took was in finding which casino games were the best ones for making her money last. She knew she'd have to give the casino some action if she wanted to get any comps so she did her research and found out that games like blackjack and video poker, when played with the correct strategy, could be breakeven games. In fact, these games could even sometimes give the player the advantage.
Gaming the System
She soon discovered an entire system of casino comps and learned how to take full advantage of that system. Before long, she was an expert at getting casino comps without having to spend lots of money at the casino. It was with that knowledge that she wrote the best selling Frugal Gambler book.
Her entire list of works includes:
Her most recent book about taxes was especially welcomed by casino players because finding reliable tax information is notoriously difficult for gamblers. It's not uncommon at all to get 12 different answers from qualified tax professionals when asking a single gambling related tax question. This book is definitely a little on the dry side but the information within it is incredibly valuable.
Frugal Video Poker Software
Jean's books are great for casino players of all skill levels but she also has a piece of software called "Frugal Video Poker Software" that's aimed at more serious video poker players. It's a computer program that simulates video poker and trains new players in making the correct decisions in different video poker formats. It's a great piece of software for anyone looking to brush up their video poker skills.
In addition to writing and playing games at the casino, Jean Scott also does quite a bit of public speaking. She regularly holds seminars for gamblers and sometimes speaks in front of casino executives.
She is also a regular face on television with appearances on shows such as "48 Hours," "Dateline," "Hard Copy," "To Tell the Truth," and multiple appearances on the Discovery Channel and Travel Channel.
Jean Scott now lives in Las Vegas with her husband Brad. You can view her website at http://queenofcomps.com/ and her blog at http://lasvegasadvisor.com/blogs/jscott/.