Video Poker - Optimum Play Review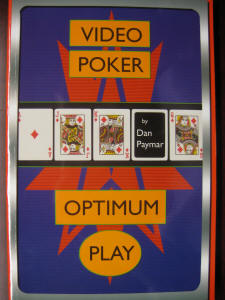 Video Poker - Optimum Play is a book by Dan Paymar that attempts to offer a complete video poker education. It is simple enough for a new player to understand, but gets into enough advanced material that it could make you a 100%+ player.
The copy I have was published in 2004 by ConJelCo and is the second edition of the book. There are just under 200 pages, and they're a very dense 200 pages because Dan doesn't include any fluff.
As you'll find out, Video Poker - Optimum Play reads almost like a text book that you would use in school. It starts with an introduction to the topic, then introduces some basic concepts, then builds on those concepts until you have a solid knowledge of the game.
This is the best book on the market for players with little or no previous experience who wish to become winning players.
Content
The table of contents is huge because the book attempts to cover basically everything a video poker player needs to know. Like I mentioned, it starts with an introduction that teaches you how to actually play a video poker machine and introduces some basic terms you'll need to know for later chapters. Also, Dan discusses what it's actually like to be a professional video poker player, and provides you with a bullet list of skills you need to go pro.
A Closer Look
The next chapter is titled "A Closer Look." This chapter covers the following topics:
Expected Value
Volatility
Attractiveness of a Game
Expected Value vs. Volatility
Penalty Cards
Here Dan defines Expected Value, and discusses why it is such an important term in the video poker world. He also gives you an equation for Volatility and explains why volatility changes the size of your bankroll swings.
Paymar also provides an equation to calculate the attractiveness of the game. I'm no video poker expert, but his is the first time I've actually seen a mathematical equation that determines the attractiveness of a game. Very smart stuff here.
He wraps up the chapter by explaining why you should evaluate both EV and Volatility, and also defines penalty cards and shows why they matter to video poker players.
Precision Play
The next chapter is titled "Precision Play." This is the section where Paymar provides his strategy charts and rules to follow for these games:
Instead of providing you with tables that list the EV of each hand, Dan has chosen to simplify the tables into a dozen or so rules to follow. This makes it much easier for a new player to get the hang of things, and only loses you roughly 0.02% of the EV.
Bankroll Considerations
Now that you know exactly how to play each of the three major games, Dan also explains what you should expect bankroll wise for the short and long term for each game.
Variations
After reading the last two chapters, I was really hoping Dan would include something like this. Although he does an outstanding job providing useful info for full pay Jacks or Better, Deuces Wild, and Joker Wild games, there's obviously a lot more games than that. This chapter covers pay table variations, rule variations like Sequential Royals and Progressive Jackpots, and game variations like Double Bonus, Dbl Dbl Bonus, and Aces & Eights.
Dan includes Precision Play rules for most of the games in this chapter. By knowing more games you'll be a more well rounded video poker player.
Unusual Games
The next chapter discusses all of the unusual games out there. Dan teaches you how to play these games, and also provides info on when they're +EV or -EV. Some games included in this discussion are Texas Hold'em, Pick Five, MegaPoker, and Five Deck Frenzy.
Miscellaneous
We've only discussed about half the book, but the rest of it covers a very wide variety of topics so we didn't want to summarize them all. Some topics covered include slot clubs, evaluating promotions, cheating, random number generators, probabilities, taxes, finding good games, and jackpot cycles. Basically, if you've already mastered Precision Play, the rest of the book will fine tune you to actually become a winning player.
The Verdict
In my opinion, Video Poker - Optimum Play is the best video poker book out there for someone who wants to become a winning player. It isn't the most entertaining book, but as far as sheer information and value goes, this book gets an A+.