The Frugal Gambler Review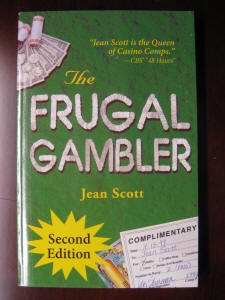 The Frugal Gambler was Jean Scott's first book about gambling, and the second version was re-released in 2005. Although the book isn't exclusively focused on video poker (like her third book, Frugal Video Poker) it still has some great information for video poker players who are looking to increase their odds.
The Frugal Gambler is just over 200 pages, and covers video poker along with slots, slot clubs, comps, promotions, living in Las Vegas, and ethics for gamblers. Basically, the book is useful for any gambler trying to take advantage of the lucrative comp culture in Vegas, and is especially helpful for video poker and slots players who can use the slot clubs.
I bought The Frugal Gambler and gave it a full read through, and will now give you my thoughts on the content provided as well as if its worth the money.
Content
The book has twelve total chapters, and as you'd imagine, it starts with the basics and builds up into more advanced and lucrative topics. Here are the chapters:
Raining on the Casino's Parade
The first chapter in The Frugal Gambler dispels many of the myths that have become commonly believed thoughts in the gambling community. Ideas such as hot/cold machines, casinos tightening up machines on holiday weekends, and even ridiculous notions such as warming up a machine by betting one coin at a time are all proven wrong.
Great Expectations - A Reality Check
Chapter two discuss the pyramid of gamblers. In Jean Scott's eyes, there are four categories of gamblers ranging from blinds losers to professionals. Jean explains what each player's goal is at the casino, and starts to show you how you can rise up the pyramid to at least break even, if not win in the long run. Also, you'll learn about bankroll management and expected value for common casino games.
Slot Machines - Handle With Care
The third chapter is all about slots, and discusses why slot machines can hardly ever be beaten. Jean doesn't criticize slot players, instead she provides a few tips on how to find higher paying slot machines so you lose your money more slowly.
Video Poker - The Meat And Potatoes
The fourth chapter finally gets into video poker, and discusses why video poker is the main game you should pursue if you want to make money playing casino games. Jean discusses pay tables, denominations, bankroll requirements, and volatility. All pretty basic stuff, but still helpful for a new video poker player.
Slot Clubs - Join Or Else
Chapter five is all about slot clubs and why they're so important to a slot machine/video poker player. Jean explains how much money and comps you can actually receive just by joining the slot club, and makes it very clear what you're leaving on the table if you pass.
Comps - Your Just Desserts
Chapter six in The Frugal Gambler discusses comps. Jean explains why comps are usually perceived as luxuries provided only for high rollers, but she also dispels that myth with the truth - that low stakes players can also receive comps that are worthwhile.
Promotions - Casino Gravy
Jean now explains how you can use casino promotions to increase your expected return even more. She discusses how to evaluate promotions and how to qualify for the best promos in Las Vegas. This is a chapter you don't want to miss.
The Bump - Airline Comps
This is a really unique section of the book, and is the first time I've seen this info in print. Jean explains how you can use your gambling play to actually get free airline tickets and reimbursed for your travel expenses to Las Vegas.
Long Term in Las Vegas - Or Having a Life
Jean now explains what it is like to actually live in Las Vegas, and how you can avoid boredom and actually have a life while being a professional gambler.
Pyramid Power
This is a really interesting chapter that compares a handful of different gamblers that Jean knows (their names were switched to protect their identities). She analyzes where each one of them is at on the gambling pyramid.
Ethics and Gambling - Odd Bedfellows
This chapter allows Jean to discuss ethics in casinos, and when and where you need to 100% follow the rules. She also mentions why she feels you should always be ethical in your business and personal life.
Breaking Even is a Terrific Thing
Jean wraps up the book by explaining why breaking even is so great, and how you can enjoy yourself for free by taking advantage of comps and promos.
The Verdict
This book barely scrapes the basics of video poker strategy or theory, but it is entertaining and contains other valuable advice that is useful for a video poker player trying to increase their profitability. Overall I give it a B+. You may also be interested in reading about The Frugal Gambler's sequel, More Frugal Gambling.