Video Poker Return Tables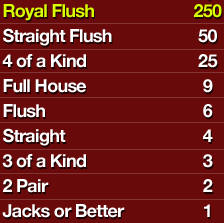 Although most amateur video poker players do not realize it, pay tables play a huge role in the profitability of a video poker machine. In fact, when you are comparing two machines that offer identical games/rules, the pay tables (or "return tables") are the only way that the two machines' payouts can differ.
Fortunately for us, all video poker machines display their respective pay table right on the terminal. This is useful because if you know the game you are playing and the pay table the machine is using, you can calculate the max payout percentage for the machine.
If this max payout percentage is over 100%, then the game can be profitable. If it is below 100%, then the game is a guaranteed loser, and you can just walk away and find a better opportunity.
We've taken the time to analyze dozens of pay tables for the most common video poker games, and have also calculated the max payout percentages for all of them. Below is a full list of the games/pay tables we have analyzed. Click any of the links to see the common pay tables for that respective game, along with the payout percentages for each return table.
Five Quick Facts about Pay Tables
If you are new to video poker and would like a quick primer on pay tables, read on:
Fact #1 - Bet More for Better Odds
Almost every video poker machine allows you to bet between one and five coins per hand. If you look at the payouts for one coin, two coins, three coins, four coins, and five coins, they all increase proportionally except for the Royal Flush. The Royal Flush increases disproportionately from the four coin bet to the five coin bet.

As you can see in the Royal Flush payouts above, the one coin-four coin bets all increase by 250/coin. However, the five coin bet increases to 4,000 coins. This makes five coin bets a much better gamble than a one-four coin bet, and usually adds between 1-2% to the total payback of the machine.
Fact #2 - Pay Tables Differ for Different Games
This is common sense for advanced video poker players, but is not common knowledge for a new player. If two different machines offer the exact same pay tables they will still have different payout percentages. The reason for this is because different games employ different rules. For example, a Deuces Wild game declares that all twos are wild, while twos are just normal cards in Jacks or Better. Therefore, a pay table that is favorable in Deuces Wild will probably be very poor for Jacks or Better because there are no wild cards.
Fact #3 - Tables can be Deceptive
Some of the pay tables that machines use are downright deceptive. For example, here are two pay tables offered for Deuces Wild games - which one do you think is better?
| | | | | |
| --- | --- | --- | --- | --- |
| Table #1 | Payout | | Table #2 | Payout |
| Natural Royal Flush | 800 | | Natural Royal Flush | 800 |
| Four Deuces | 200 | | Four Deuces | 200 |
| Wild Royal Flush | 25 | | Wild Royal Flush | 25 |
| Five of a Kind | 15 | | Five of a Kind | 16 |
| Straight Flush | 9 | | Straight Flush | 10 |
| Four of a Kind | 5 | | Four of a Kind | 4 |
| Full House | 3 | | Full House | 4 |
| Flush | 2 | | Flush | 3 |
| Straight | 2 | | Straight | 2 |
| Three of a Kind | 1 | | Three of a Kind | 1 |
Table #2 looks much better, doesn't it? It pays more for Five of a Kind, Straight Flushes, Full Houses, and Flushes. However, Table #1 is actually a better gamble because of the higher Four of a Kind payout. Table #1 pays out a maximum of 100.76%, and Table #2 pays out a maximum of only 99.73%. This goes to show that pay tables can be deceptive, and you should always use a calculator or check the numbers on our site to be sure.
Fact #4 - Pay Tables cause Volatility
Another little known fact about pay tables is that they are the cause of volatility. If a table is "top heavy" meaning that a lot of the expected return lies in the bigger, rarer payouts, the machine will be very volatile as you lose quickly while waiting to hit a big hand. If a table is balanced, meaning that the expected return is spread throughout the payouts, the machine will be much smoother and have fewer swings.
Fact #5 - Casinos Change Tables
This is another one to watch out for when you are at the casino. Casino managers are always monitoring the take on the video poker machines, and if they notice a machine isn't earning enough money, they will tighten up the pay table to increase the house edge. Even if you played a good machine the day before, check it before playing again to make sure it has the same pay table and hasn't been modified to pay out less.