More Frugal Gambling Review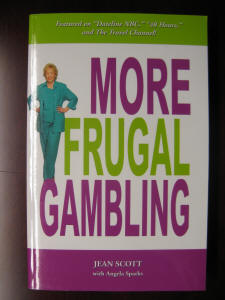 More Frugal Gambling is the follow up to The Frugal Gambler, and is written by the same Jean Scott with help from her daughter Angela Sparks. More Frugal Gambling has almost 400 pages packed with gambling advice and tips, and although it doesn't specifically pertain to video poker it is still useful for video poker players.
The book expands upon the topics discusses in The Frugal Gambler, and also revises some of the advice to keep it up to date and relevant in the modern day casino world. Overall, it's a great follow up for readers who have already read The Frugal Gambler and want to learn even more secrets.
I bought and read the book, and will now share my thoughts with you so you can decide if you should buy it as well.
Content
More Frugal Gambling is broken up into five major sections with thirteen total chapters. We'll go over each one briefly now:
Section I: Introductions - Queen of Comps/Frugal Princess
Section I is an introduction to the book and the authors, and consists of the following two chapters:
I So Didn't Want to Write This Book
Following in the Queen's Footsteps to Become the Frugal Princess
The first chapter is Jean's introduction and provides her reason for writing the second book. The second chapter is Angela's introduction and has some interesting insight on growing up with Jean as her mom and how she got into gambling.
Section II: The Casino Game
Section II gets right into the meat of the book and contains these four chapters:
The Pyramid Falls
The Name of the Game - Luck or Math?
Not Your Grandma's Slots Anymore
Video Poker - Getting the Best of It
In the second section of More Frugal Gambling Jean revises her pyramid of gamblers from the first book and provides new classifications of gambling personalities. She then discusses the house edge and how you can decrease it and even overcome it in the long run. Also, Jean introduces slot machines and discusses how they've changed over the years. She wraps the section up with a nice lengthy section on playing profitable video poker.
Section III: Tools of the Trade
Section III contains three chapters that discuss how you can use slot clubs and promotions to increase your expected return no matter what game you're playing.
Slot Clubs - You Can't Afford Not to Join
So Many Promotions, So Little Time
Joining the Court of KuPon
This section discusses common excuses players have for not joining slot clubs, and why every single excuse is wrong. Jean then breaks down promotions and how you should analyze them to find the best ones. She wraps the section up with a discussion on how to take advantage of coupons at the casinos to get free meals, rooms, and extra free play.
Section IV: Comps - the Game Within the Game
Section IV of More Frugal Gambling is the first time Jean really discusses comps. She's known as the "Queen of Comps", so you can expect top notch advice here.
Welcome to the Casino Comp World
Comps From the Slot Club and In Your Mailbox
Do You Need a Host?
Finding Your Way Through the Comp Maze
Section IV goes deep into the comp world and deciphers how you can get the most comps possible at your level of play. Also, Jean discusses who should have slot hosts and why they can help you out at the casino. This chapter is definitely the most valuable one in the book as the comps and rewards information can't be found elsewhere.
Section V: Casino Financial Smarts
Section V serves as a wrap up and discusses bankroll management, taxes, and tipping. Here are the chapters in Section V of More Frugal Gambling:
Money Matters
Let Me Give You a Tip
These two chapters deal with money management, and explain why you should always keep careful track of your actual cash earnings as opposed to your cash and comp earnings. Also, you'll learn about tipping etiquette and taxes.
The Verdict
More Frugal Gambling is another excellent book from Jean Scott, and is the go to book for learning about comps, rewards, and slot clubs. I give it an A.