Progressive Video Poker Guide
| | |
| --- | --- |
| Play progressive video poker machines at Bovada Casino. Bovada Casino offers $0.25 Super Jackpot progressives as well as $1 Super Jackpot progressives. The jackpot starts at $1,000 for the quarter machines and $4,000 for the dollar machines. As everyone plays the progressive machines, the jackpots get higher and higher. We've seen the dollar machine get well into the five figures! Head over to Bovada Casino to get started! | |
Progressive video poker machines combine traditional video poker games with the ever-increasing jackpots of progressive slot machines. Progressive video poker offers more excitement than standard video poker, and can even become a positive expectation game when the jackpot becomes big enough. This article will explain progressive video poker, and will teach you how to recognize positive expectation machines.
What is a Progressive Jackpot?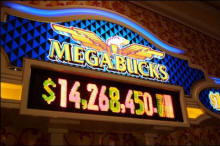 A progressive jackpot is a pool of money that continually grows until someone wins it, and then it resets at a lower amount. These jackpots are measured in coins (in video poker at least), and often reach four and five figures worth of coins.
The money in a progressive jackpot doesn't appear out of thin air - it is actually paid by the players playing the jackpot game. Every time you make a wager on a progressive video poker machine, a portion of the wager goes into the jackpot. Since jackpots span across many machines, the jackpot quickly and consistently increases until it is hit.
Progressive video poker machines in live casinos usually share jackpots with a dozen or so other machines, but online video poker games share jackpots across an entire network of sites, which totals hundreds if not thousands of machines. That is why online video poker jackpots get so large, where as the live versions aren't quite as big.
How to Win a Video Poker Jackpot
Most progressive video poker machines pay out the jackpot when a player makes a royal flush. However, some machines may pay out for different hands, such as four of a kind deuces in Deuces Wild progressive.
Progressive Jackpot Conditions
One thing you need to remember is that casinos set strict requirements on the progressive jackpot payout. For example, most casinos require that you receive the royal flush on the initial deal - if you make a royal flush on the draw you'll only receive the normal royal flush payout. Also, you almost always have to be betting the max credits (5 at most machines) to qualify for the progressive jackpot.
Another tricky requirement for progressive jackpots is that sometimes the casino will require that you make a "sequential" royal flush, which means that your royal flush is dealt out either 10-J-Q-K-A suited or A-K-Q-J-10 suited. Make sure not to scream too loud if you get a non-sequential royal flush, because you might not have won the jackpot.
Progressive Video Poker Games
Progressive video poker is mainly offered in two forms: 8/5 Jacks or Better, or 6/5 Jacks or Better. Of course, the 8/5 version is better for the player.
8/5 Jacks or Better Progressive
Jacks or Better with an 8/5 pay table is the most common form of progressive video poker. The 8/5 version of the game carries a 2.7% house edge (if you play with perfect strategy), and as the jackpot grows the house edge becomes smaller and smaller until the game becomes break even at 8,665 coins. Once the jackpot exceeds 8,665 coins, the game is actually positive expectation (as long as you continue playing with perfect strategy).
Most video poker machines display the jackpot in dollars and not coins, so you'll have to convert it to coins to determine if the game is positive expectation. If you're playing dollar video poker it is easy, as the jackpot just has to reach or exceed $8,665. If you're playing quarter video poker, the jackpot only needs to reach $2,166.25. If you're playing dime video poker, the jackpot needs to reach $866.50.
If you want to play Progressive 8/5 Jacks or Better, make sure to check out Bovada Casino. At the time of this writing their progressive jackpot is at $6,134, so it's almost at the break even point.
6/5 Jacks or Better Progressive
The other common version of progressive video poker is 6/5 Jacks or Better. Since 6/5 Jacks or Better carries a higher house edge (5% with perfect strategy), so the break even point for the jackpot is 12,350 coins. We always recommend playing 8/5 progressive for obvious reasons.
Online Progressive Video Poker
If progressive video poker sounds like the game for you, we recommend playing at Bovada Casino. They're one of the only online casinos that offers Progressive Jacks or Better.