John Grochowski
Update! John now has a weekly column in our video poker forum, check it out here:
» John Grochowski Video Poker Column
Latest Grochowski Articles: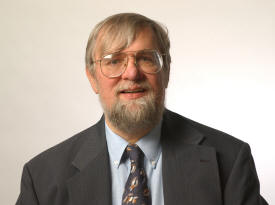 John Grochowski is a casino gambling veteran with hundreds of published articles and several best selling books tackling the topic of casino gambling. The insights of John Grochowski have turned thousands of people from "gamblers" into "savvy casino enthusiasts." His books cover a broad range of games but he is especially noted for his work with slot machines.
John's Beginnings
John Grochowski was born in Aurora, Illinois in 1952 but spent most of his childhood in Lisle Illinois, a suburb of Chicago. He finished high school in 1970 and then went to the University of Illinois where he spent some time as a staff member of the school newspaper.
During his service at the school newspaper, John found he had a knack for the job. He was a great article writer and thoroughly enjoyed it so he decided to pursue the career. Upon graduation, he got a job as a sports writer for the Suburban Trib in Hinsdale, Illinois.
He then spent a little time writing for a newspaper in Colorado Springs but later returned to Illinois to write for the News-Sun in Waukegan. In 1982, John got a great job offer to work for the Chicago Sun-Times and jumped on the chance.
First Gambling Works
It was a great job but the biggest benefit of all was that this was the job that would finally introduce John to the world of casino writing. He'd never even considered the idea until one day in 1994 he was asked by his boss at the Chicago Sun-Times to write a weekly column about gambling. The column became an instant hit and it was soon syndicated by newspapers across the country.
Sensing an opportunity, John delved deeper into the casino gaming world and started writing even more articles on a range of casino-related subjects. His work was well-received by most who read it so he kept at it.
John's Books
John released his first book in 1995, titled "Winning Tips for Casino Games." This book was an instant success and he soon wrote several more books, each one focusing on a particular topic. His list of published books includes:
Winning Tips for Casino Games (1995)
Gaming: Cruising the Casino with a Syndicated Columnist (1996)
The Casino Answer Book (1998)
The Video Poker Answer Book (2000)
The Craps Answer Book (2001)
The Slot Machine Answer Book (2005)
The craps answer book was the most advanced book in the "Answer" series and it was a hit among craps players. All of his books have sold well but The Craps Answer Book performed the best.
In addition to his books, John is also a regular contributor to Slots Manager, Southern Gaming and Entertainment, Midwest Gaming and Travel and International Gaming and Wagering Business. He also runs his own website (www.CasinoAnswerMan.com) where you can read his articles for free and ask him questions via e-mail.
If you're in the Chicago area, you can find John on the air on WBBM 780 where he hosts the "Beat the Odds" tips talk show. John has also appeared several times on TV including appearances on the Travel Channel for Vegas-related shows.
In July of 2000, John appeared on the US game show "Who Wants to be a Millionaire" and won $125,000. This is one smart guy so if you ever get a chance to pick up one of his books, it wouldn't be a bad idea at all.