WinPoker 6 Review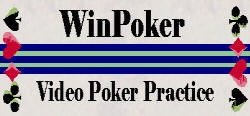 WinPoker 6 is one of the most popular video poker training programs out there. It is made by the same company (ZamZone) who made VP Strategy Master, and costs $29.95. The product is available for direct download from the ZamZone.com website, and you can be up and playing in under five minutes. Read on to learn more...
Features
WinPoker 6 is mainly a video poker trainer that teaches you how to play every single hand you come across. How it works is that you actually play video poker on the program, and every time you make a mistake the game lets you know what you did wrong. Here is what the program looks like when you fire it up: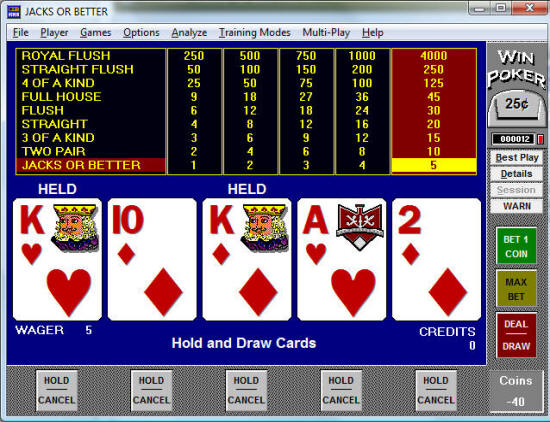 You can choose between twenty-three video poker variations and can also play either single hand, three hand, four hand, five hand, or even ten hand games. Once you choose a game and the number of hands you'll play, you can choose your training mode. There are five different training modes you can choose from:
Auto Hold
Warn
Test
Show
None
Auto Hold automatically holds the correct cards for each hand you play. Warn, test, and show mode all basically have the same function of letting you play then correcting you when you make a mistake. None mode lets you play all on your own, but keeps a session log so you can see your mistakes at the end of your session. If you choose None then play a session, here is the session log you'd see at the end: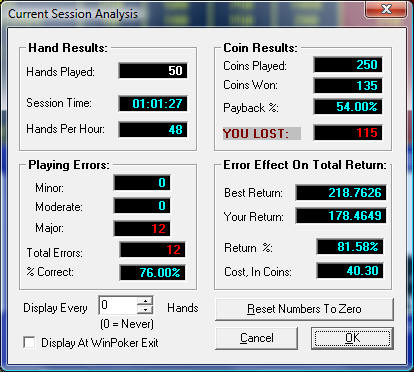 As you can see, I wasn't paying close attention during the 50 hand session.
One very useful additional feature is the Error Log setting. With this setting you can play a session on normal mode, choose Error Log, and then replay all of the hands you messed up originally. This is a great learning tool for correcting your mistakes.
Individual Hand Analysis
Another excellent feature that is provided with the program is the single hand analysis. In this mode you can enter any five cards in the deck and see the statistically correct method for playing the hand. This is perfect for sorting through those tricky hands. Here is a screenshot of a hand analysis for a Jacks or Better hand: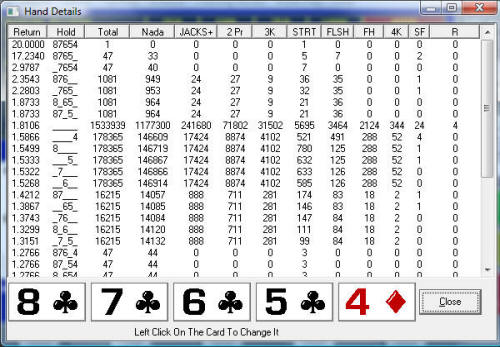 As you can see, the correct play here is to hold the straight for the 20 coin payout.
The Verdict
Overall, WinPoker 6 is perhaps the most complete video poker program on the market. I highly recommend it, and it will pay for itself over and over again. WinPoker 6 gets an A+ in my book - head over to ZamZone.com to get a copy.