VideoPokerTools.com Review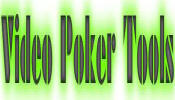 VideoPokerTools.com is an old but respected video poker site that offers hand analyzers for Jacks or Better and Deuces Wild as well as a bankroll tool. The site also offers a review of the WinPoker strategy program. This page will analyze the tools at VideoPokerTools.com and see if they're still relevant even though the website appears old.
Jacks or Better Hand Analyzer
The first tool listed on the site is the Jacks or Better Hand Analyzer. The tool's purpose is to analyze a single hand and determine the best course of action to achieve the highest mathematical return. You type in the five cards, adjust the pay table (if necessary) and click Calculate. Then, the website returns each possible method of playing the hand, and the expected return and variation for each. Here's a screenshot of the result: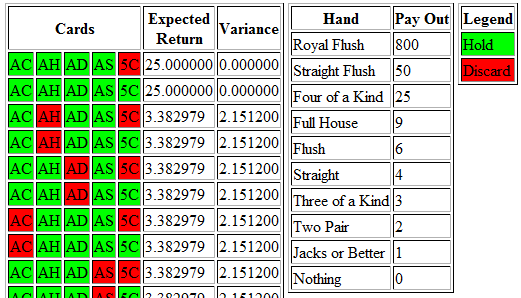 Of course the table extends much further down, but all that really matters is the top spot. That is the best course of action for your hand (in this case, it doesn't matter if you hold the 5 of clubs or discard, because the four of a kind is already made).
Deuces Wild Hand Analyzer
VideoPokerTools.com also offers the exact same tool, but for Deuces Wild. It functions exactly the same - you put in your five cards, and it spits back the best course of action for the hand. Here's another screenshot of the outcome of an analysis: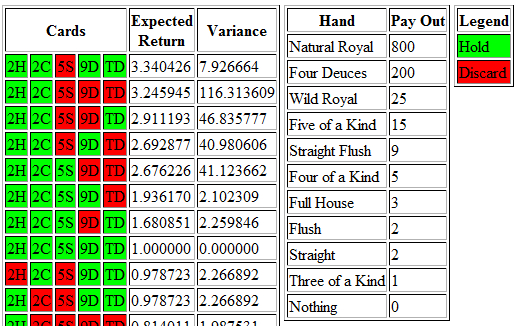 Just like above, the table extends down to show all 32 ways to play the hand, but we only included the top of the table because that's what's important. In this case, your best course of action is to keep the deuces and the nine and ten of diamonds.
Bankroll Tool
The bankroll tool is another unique and extremely useful tool for video poker players. To use it you select a game (you can only choose between full pay Jacks or Better or Deuces Wild), and enter your cash back percentage (if any). Press Calculate and you get back a table that looks like this: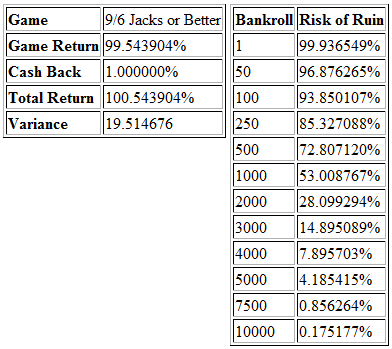 As you can see, I used Jacks or Better and a 1% cash back factor. "Bankroll" units denote five credits at your betting limit. For example, if you were playing $0.25 machines a 500 unit bankroll would equal $625. In the case above, if you were a $0.25 player you'd want at least $9,375 (7,500 bankroll unites) to reduce your risk of ruin to below 1%.
The Verdict
Regardless of how ugly and old the site may be, VideoPokerTools.com offers some excellent tools for free, so they get an A+ in my book.