VP Strategy Master Review

VP Strategy Master is a downloadable tool used to create precisely accurate strategy cards for a dozen video poker games. You do NOT actually play video poker on this program - it is used exclusively to generate strategies for the most common games.
The feature that really makes VP Strategy Master unique is the ability to create exact strategies for custom pay tables.
Features
As I mentioned, VP Strategy Master is capable of generating basic or advanced strategy sheets for a dozen different video poker games. Also, you can input custom pay tables and have the program create a custom strategy just for that pay table. The games that are supported by VP Strategy Master include:
Jacks or Better (all Four of a Kinds pay the same)
Bonus Poker (including Double Bonus)
Double Double Bonus (with kickers A, 2, 3, 4)
Double Double Jackpot (with kickers A, K, Q, J)
Pick'em Poker
Deuces Wild
Deuces Deluxe
Joker Wild (Kings or Better)
Joker Wild (Two Pair or Better)
Double Joker Wild
Kings or Better
Bonus Deuces Wild
To generate a strategy chart, all you have to do is fire up VP Strategy Master, choose the game you'd like, and click Basic to make a basic chart, or Advanced to make a longer, advanced chart. If you'd like to input a custom pay table, you can do that before hitting Basic or Advanced. Here's a screenshot of the result: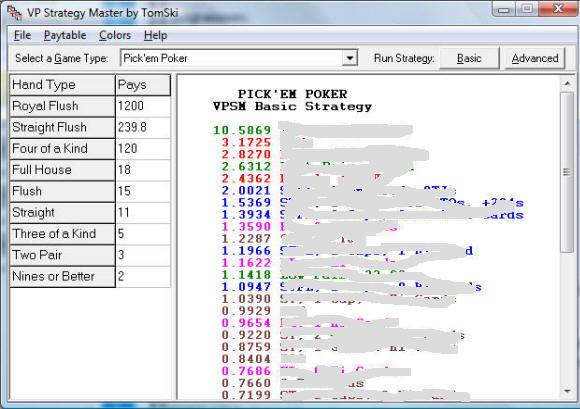 NOTE - the actual hands have been removed to protect the author of the program.
On the left you see the expected return for each hand, and on the right you would see the actual hands. Once you've generated a chart, you use it by comparing your hand to the chart, and finding the highest match for your hand. For example, if you are playing Jacks or Better and have a pat Straight Flush but also have four to a Royal, you can look at the chart and see that the pat Straight Flush is higher, so you should keep that hand.
Each category of hand is color coded for easy recognition. By default, suited connectors are Red, straights are Blue, made pairs/trips/full houses/quads are Green, high cards are Brown, and flushes are Purple. You also can edit the colors to your liking.
One very nice feature is the ability to print your charts once you've created them. Just click File -> Print Strategy, and you'll have a strategy chart to take to the casino. Since most strategy charts that you can buy cost $10-$15 themselves, VP Strategy Master is a great investment at $29.95 for unlimited charts.
Accuracy
From my month or so of owning the product, I've been very happy with the accuracy of the strategy charts. The website itself says that they will not be perfect, but they're all guaranteed to be within 0.1% of perfection, which isn't bad in my eyes. If you want the most accurate strategy, make sure to use the Advanced option in the program.
The real advantage is that once you've printed a chart and go to the casino, you can play as well as the true professionals without studying the game for countless hours.
Pricing
VP Strategy Master costs $29.95, and that is the only time you'll have to pay. There are no recurring monthly fees or anything else - $29.95 and you own the product for good. We don't see anything on their site regarding free updates, but we assume if they do ever release an update that previous customers will receive it for free.
Support
VP Strategy Master is a very simple product to use, but if you need help you can email support@zamzone.com to get your problems taken care of.
The Verdict
In my opinion, VP Strategy Master is a very sound investment that will pay for itself time and time again. I highly recommend the program, as it is much cheaper than buying individual strategy cards for every game and every pay table. If you're ready to buy or want to learn more, head over to ZamZone.com. Also, check out WinPoker 6 as it is made by the same company (ZamZone) and is an excellent complimentary product.