Sequential Royal Flushes Explained
Play Sequential Royal Flush Games at Bovada Casino!
Many of the new video poker machines have an additional payout at the top of the pay table for a "sequential royal flush." Sequential royal flushes are simply royal flushes that go in order across the screen from left to right. For example, Th-Jh-Qh-Kh-Ah would be a sequential royal flush, but Jh-Th-Qh-Kh-Ah would be a normal royal.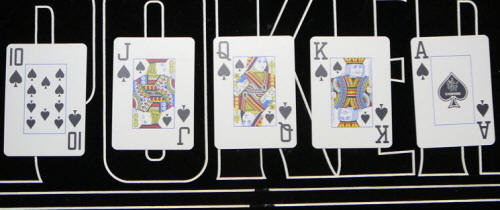 (Example of a Sequential Royal)
Sequential royal flush payouts can be added to any game, and are always at the top of the pay table, as shown below: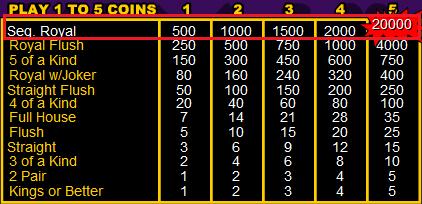 In this example the Sequential Royal pays out 20,000 coins for a five coin bet, but I've also heard of sequentials paying up to 50,000 coins for a five coin bet.
One Way Sequential vs. Two Way Sequential
Most sequential royal flush payouts are only good for Royals that go left to right. However, there are also "reversible sequentials" that pay out for Royals going left to right or right to left. Obviously the reversible machines are more valuable because you have twice as much of a chance of hitting the huge payout.
Additional Value
According to WizardofOdds.com, adding a one-way sequential royal flush payout to a non-wild card machine is worth roughly 0.23% on top of the game's normal payout. So, if you were playing full pay JoB with a sequential royal payout, your expected return would be 99.77% instead of the normal 99.54%.
If you're playing a wild card game with a sequential royal payout, the numbers get a little more complicated, but they're usually higher in wild card games because you have a better shot at hitting the sequential. I've seen increases of up to 0.46% for wild card games.
You should always check that the machine isn't cutting payouts for other hands. A lot of the sequential machines I've seen add the big payout on top but cut the payouts down low, which effectively makes the game more volatile and lower paying.
I've usually seen sequential royals added on to Jacks or Better, Double Bonus, and Joker Poker games at live casinos. Online, I've only found Joker Poker games with the sequential royal flush payout.
Where to Play?
If you'd like to play sequential royal flush games, I'd suggest playing Joker Poker at Bovada Casino. That is the only online game I've found that has the sequential royal payout. They offer 20,000 coins for a five coin bet on sequential royals.