Cryptologic Video Poker Software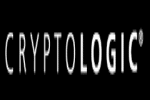 Cryptologic is a dinosaur when it comes to casino gaming software, as they've been in the business for over ten years. Ever since the beginning of online gambling Cryptologic has been developing casino software, including video poker software, and selling it to online casinos. Players love Cryptologic casinos because they're safe and have solid graphics and odds.
Cryptologic is a player favorite when it comes to video poker because they offer decent pay tables and have a nice lineup of video poker variations. Since Cryptologic launched they have accepted over $60 billion in wagers, and have never had any scandals regarding payouts, fair odds, or corrupt employees. They're a safe, reputable, and overall outstanding company.
Cryptologic Video Poker Games
Cryptologic offers seven total video poker games including Deuces Wild, Double Bonus, and Jacks or Better. Unfortunately, Cryptologic offers mostly low pay versions of their video poker games, so if you're looking for the best possible odds you'll have to check out a different video poker casino.
However, Cryptologic casinos make up for their sub-par odds with their outstanding graphics and game play. Although the company is old they haven't fallen behind the times, as shown by this screenshot of the Jacks or Better game at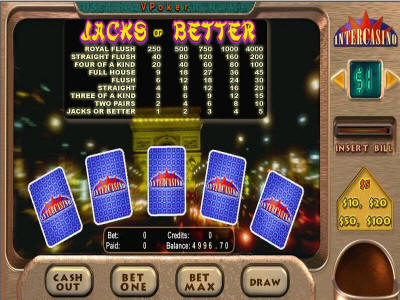 In the above Jacks or Better game you'll notice that a straight flush only pays out 40x and a four of a kind only pays out 20x. In a full pay game those hands would pay out 50x and 25x respectively. Because of those reduced payouts, the maximum payout percentage for Jacks or Better games at Cryptologic casinos is only 98.25% with perfect strategy as opposed to 99.54% at a full pay Jacks or Better game.
Other Cryptologic video poker games like Tens or Better and Double Bonus also offer reduced pay tables, so if you're looking for full pay games you'll have to look elsewhere.
Full Listing of Games and Returns:
Here is a full listing of the video poker games offered at Cryptologic casinos, along with the pay tables and payout percentages for each:
| | | |
| --- | --- | --- |
| Game: | Pay Table: | Max Payout Percentage: |
| All American | 90/35 | - |
| Double Bonus | 9/7 | 99.11% |
| Deuces Wild | 20/9/4 | 97.97% |
| Jacks or Better | 40/20/9/6 | 98.25% |
| Joker Poker | 18/7 | 98.94% |
| $0.25/$1 Super Jackpot Progressive | 8/5 JoB | ** |
| Tens or Better | 20/6/5 | 97.96% |
**It is impossible to calculate the payout percentage for a progressive game without knowing the current progressive jackpot.
Cryptologic Online Casinos
Cryptologic has developed dozens of casinos throughout the years, and we've found the best Cryptologic casinos out there. Here is a list of our favorite Cryptologic casinos for video poker:
VIP Casino
Littlewoods Casino
Peach Casino
Millenium Casino
49er Casino
UK Betting Casino
William Hill Casino