Roulette Guide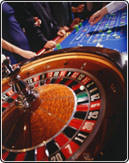 Roulette is the third most popular casino game in the world (right ahead of craps), trailing only behind blackjack and slot machines. The idea behind roulette is simple: a ball spins around a wheel, and finally lands in one of 37 (or 38) numbered pockets. Your job is to place bets guessing where you think the ball will land.
If you bet on the right numbers you win, and if you don't you lose. If you do win your payout will depend on what bet you made, as each bet has a different payout. This article will teach you how to play roulette, and will also decipher all of the trickier bets and odds.
How to Play Roulette
Roulette is actually one of the simplest casino games out there. There are two pieces of equipment needed to play roulette: the table and the wheel. The table is a felt table with a chart on it that displays all of the bets you can make. The wheel is a spinning wheel housed in a wooden case. In the wheel is a ball that spins around until it loses speed and falls onto one of the 37 or 38 pockets on the table.
The two pieces of equipment interact in the most important of ways. Players place their bets on the table, and the chart on the table corresponds with the numbers on the wheel. Then, when the ball falls onto the wheel you compare the wheel results to the table to see which bets win and which bets lose.
Roulette Bets
Before anyone spins the ball each player has to place their bets. There are two main types of bets: inside and outside. Inside bets have a lower chance of winning because you're betting on single numbers, but pay out more money when they do win. Outside bets are more likely to win because you're betting on a group of numbers, but they pay out less.
To place bets you place your chips on the square that corresponds with the bet you'd like to make. For example, if you think the next spin is going to land on a red pocket you'd place your chips on the red square on the table. If you think the next spin is going to land on the number 12, you'd place your chips on the number 12 on the table.
Payouts
It's important to know what each type of bet pays out if you do happen to win. Here is a chart showing all of the major bets, and also listing the payout odds if you win:
| | | |
| --- | --- | --- |
| Bet | Description | Payout |
| Even/Odd | Bet on all even or all odd numbers | 1:1 |
| Black/Red | Bet on all black or all red numbers | 1:1 |
| Top 18 | Bet on the numbers 19-36 | 1:1 |
| Bottom 18 | Bet on the numbers 1-18 | 1:1 |
| Column Bet | Bet on a column of 12 numbers | 2:1 |
| Dozens Bet | Bet on a row of 12 numbers | 2:1 |
| Double Street | Bet on six adjoining numbers | 5:1 |
| Basket Bet | Bet on 0, 00, 1, 2, 3* | 6:1 |
| Corner | Bet on four adjoining numbers | 8:1 |
| Street | Bet on three adjoining numbers | 11:1 |
| Split | Bet on two adjoining numbers | 17:1 |
| Straight Up | Bet on one number | 35:1 |
**The Basket Bet only applies to American roulette wheels with the double zero.
American vs. European Roulette
One topic that is very important to roulette players is that of American vs. European wheels. American wheels have a single zero along with a double zero, while European wheels only have a single zero. This may seem irrelevant, but the addition of the double zero greatly increases the house edge on every single bet you can make. We always recommend playing European roulette because the house edge is much lower.
Online Roulette Games
You can actually play roulette games online for play money or even for real money. If you'd like to try out online roulette, head over to Bovada Casino. They offer European roulette so you'll be getting the best odds if you do decide to play for real money.